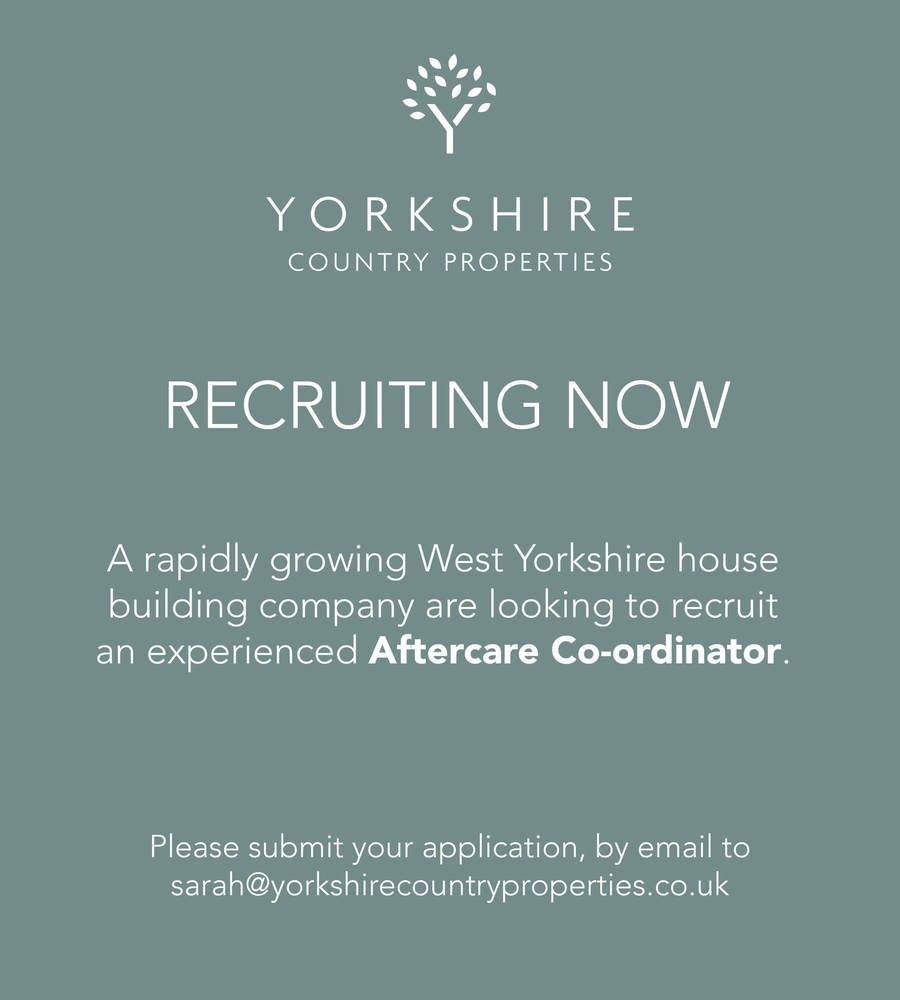 LOOKING FOR AN EXCITING CHALLENGE? WE'VE GOT AN AMAZING OPPORTUNITY…
ROLE: AFTERCARE CO-ORDINATOR
LOCATION: SITE BASED (HOLME VALLEY)
START DATE: JUNE 2021
A BIT ABOUT US…
At Yorkshire Country Properties we have a reputation for building desirable homes, with a modern approach to living. We pride ourselves on our attention to detail, quality craftmanship and building homes that our owners love to live in.
Our business, and the home building sector in general, are growing rapidly. We have secured a healthy local pipeline and our strong 5-year projections will enable us to develop many more sites within the Yorkshire area, and beyond. It is a very exciting time!
YOUR ROLE
We are looking for someone highly organised with great relationship building skills to manage our aftercare service; helping to deliver an outstanding customer experience for our homeowners.
REPORTS TO
Customer Experience Manager
WORKS WITH
- Homeowner
- Customer Experience Manager
- Site Manager
- Trade specialists
KEY RESPONSIBILITIES
- Responsible for the full after-care experience for the homeowner.
- Presentation of the aftercare process to the homeowner.
- Building strong relationships with the homeowners; managing their expectations and communicating effectively at every stage of the journey.
- Working closely with site team and external contractors to ensure that all issues are actioned and resolved at the earliest opportunity, with minimum disruption to the homeowner.
- Recording all communications and actions using the Freshdesk system.
- Providing a summary RAG report, presented to the CEM weekly.
- Reporting any problems or complaints to the CEM immediately.
- Effectively and proactively pre-empting problems and providing ready solutions. Contingency planning.
- Representing YCP to the highest professional standards of business, at all times, by upholding the highest standards of presentation in all that our customer sees, hears and feels.
SKILLS AND EXPERIENCE
Essential:
- Experience in a customer service role.
- Experience working in a small business environment.
- Strong people skills – able to build effective working relationships with our owners, colleagues, and external suppliers.
- A keen eye for detail.
- Competent computer literacy and knowledge of a CRM system
- Highly organised and a great problem solver.
- Able to work on your own initiative and prioritise effectively.
- Good time management.
- Great on the phone.
- Positive energy.
Desirable:
- Experience working within the house building/construction sector.
SALARY AND BENEFITS
- Part-time. 20-24 hours a week
- Salary £12.50 per hour
- Company phone and laptop
Please submit your application, by email to sarah@yorkshirecountryproperties.co.uk